For Sale by owner: 28 acre paradise.
In Pacific Harbour, Fiji.

Pacific Harbour, "the adventure capital of Fiji"
(famous shark diving, river rafting etc.)

Property details


11.5 hectares, 28.4 acres.
Freehold (fee simple), you own it forever,
as opposed to leasing (lease hold) from the owner.
Ocean view (partial) + views of the Namosi highlands.
Ocean access (at high tide, approx. 8 hrs out of 24). Only draft
restricted, no low bridges/pipes to pass under, only the Queens hwy.
The property is the same distance from the beach by boat as is popular
Nokonoko circle and lake front VitiLevu drive (in the central lake area).
Half is mountain rainforest, half is flat lowland. Sealevel to 50 meters.
The property's location and elevation means that it is tsunami proof,
hurricane surge proof, and sea level rise(global warming) proof,
yet has sea access at high tide! A future-proof piece of paradise!
I will not venture into realms of cynicism and suggest it will be
'Ocean front' in a few generations due to sea-level rise ;-) though...
that is a likely outcome for the very patient investor's offspring!
3 acres (thousands) of rare & endangered Sago palms, the most sought
after thatch, highly coveted by all resorts. Can be sustainably harvested.
Fresh, clear creek water for swimming and for boat/engine rinse upon
returning from the sea. Freshwater maintains hull free of marine growth!
Has a temporary "camp" on mountaintop consisting of 3 shipping containers
with new 6KW solar system and 'bathroom'/septic tank.
The Fiji Electric Authority is planning a grid extension to this property.
The property has excellent 4G broadband reception.
A road has been made within the property, down through the rainforest,
to access the lower(sea level) half & creek. Partially graveled, yet unfinished.
Across a 6-10m wide creek is yet undeveloped section "F", Pacific Harbor;
i.e. River drive (paved road) may potentially be only meters away in the future!
Pacific Harbor' refers to a residential property development managed by 'Pacific Harbour estate management'.
This entails a number of covenants, codes and restrictions, as well as fees. This property, being 'across the creek'
from Pac Harbor, is not affected by such covenants or fees, in fact, there are no taxes or fees whatsoever.
Zoning being 'agricultural' it is also not affected by non-citizen investment rules requiring construction within 2 years.
Only 7% of land in Fiji is freehold, the rest is communally owned by native Fijians and the government.
It is a precious commodity and has no competition among other tropical 'paradise' nations in the south Pacific,
for the simple reason that they have no freehold land, until you get up to fabulous Hawaii,
but there you can add a zero to the price!



Price: Only $28,000 FJD/acre (~US$13,500/acre) = $795K FJD (~US$380,000).
Most affordable boat accessible land in town! $3 USD per square meter!
Hard to beat...

Price comp:
A few years ago a neighbor (on same "DP") sold 5 acres of 'bush' for $180.000($36000/acre)
that has no ocean access, no ocean view, and is not 10m from section 'F' Pacific Harbour.

Most water access (and beach front) land in Pacific Harbor is priced around $1M/acre,
even some barely accessible lots (behind the low bridges, e.g. Great Harbor drive...etc).
-The reason for the surprisingly affordable price of this property is that it is located a whopping
10 meters away(across a creek) from Pacific Harbour proper, so to 'low bandwidth' people it might
as well be on the moon...;-)... So, an awesome opportunity for 'high bandwidth' individuals.
Here you basically get 28 acres for the price of One, simply for being a stone's throw away from
'civilization'. And the privacy...the privacy....and the Shrieking of the large native Parrots...!
See price comparison map-photo below, hastily compiled, but more or less accurate.
Easily verifiable online.

Can be subdivided.

Clean title!

To summarize: a boat accessible 28 acre 'lifestyle'- botanical estate,
less than an hour from the Capital by car for less than FJ$1M ($28k/acre) !


P.S. Will not sell to parties who intend to bulldoze the native rainforest or
do logging. Also, this is not farmland. Rainforest 'red clay' is unsuitable for
farming, it is only suitable for rainforest. The acreage down along the creek
has soil suitable for growing anything and has few native plants to protect,
with the exception of the very special endemic Sago palms mentioned above.


P.P.S. Fiji has extremely low labor rates (less than US$2/hr) = very cheap to build houses!
Also, there is no import duty on affordable pre-fab housing.

P.P.P.S. Fiji is one of the very few countries on Earth with zero active Covid 19 cases in 2020!
This is because Fiji has had an excellent World class government for over a decade now.

Contact, e-mail: property@forselles.com



Locations...and prices.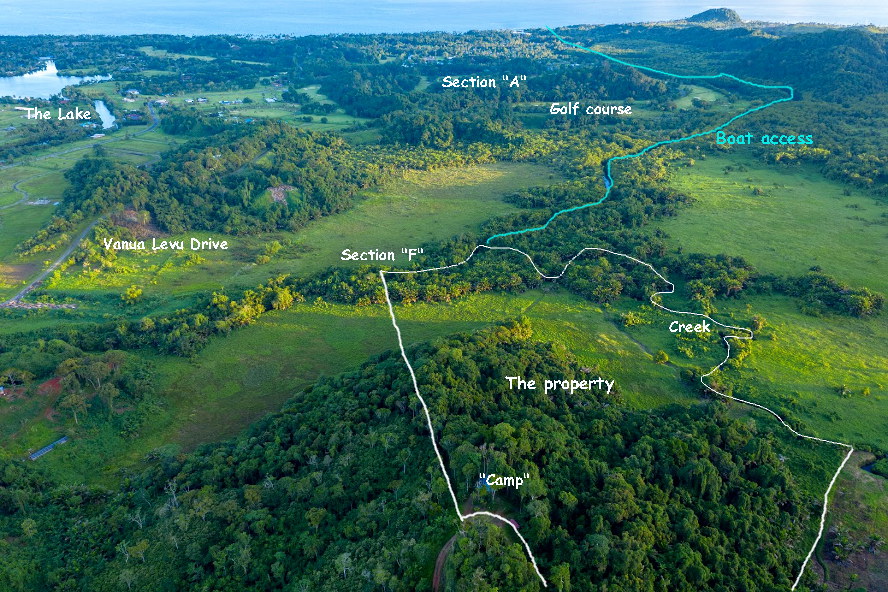 Drone view


---
Contemplated ideas. Plans. Potential...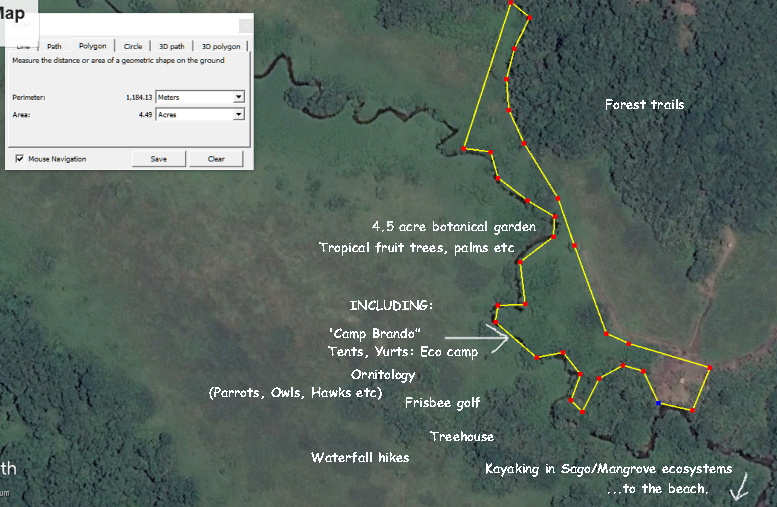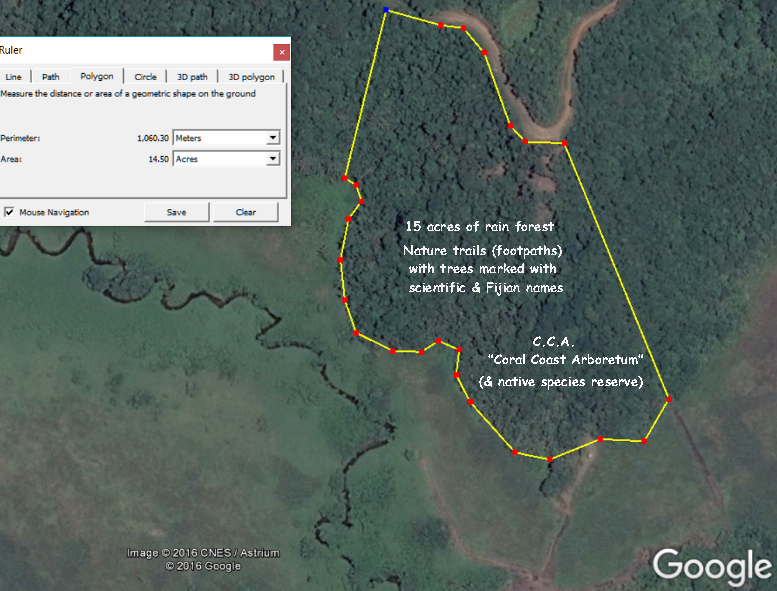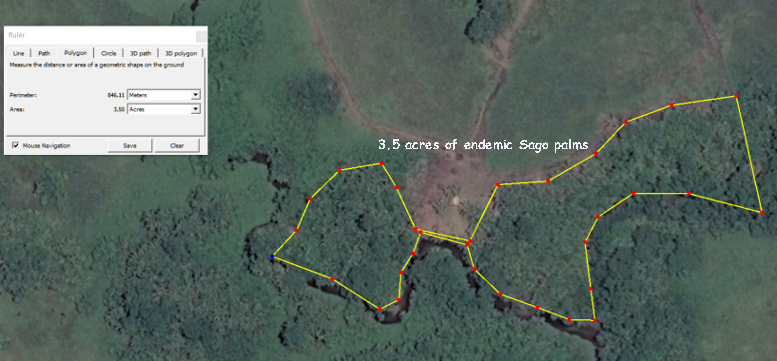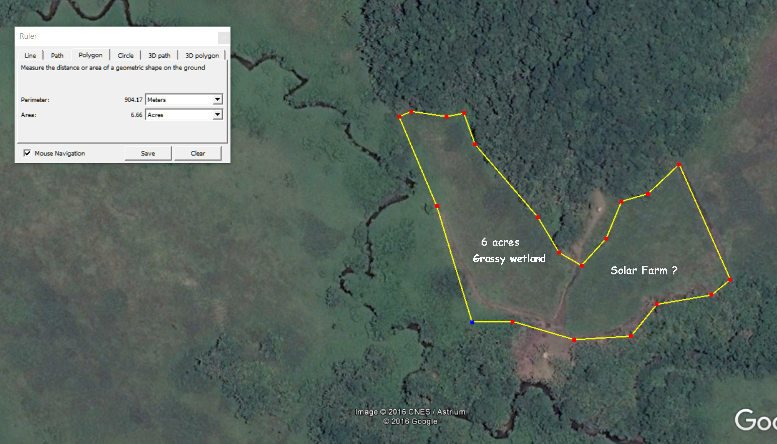 ....also, perfect for Zipline!
+ Many suitable spots for heli-pads.

Also, a great property for a film production company.
Perfect for shooting a remake of "Apocalypse now", or any Terrence Malick film ; )
Many different environments; jungle, mountain, open field, palm forest,
creek and jungle river with bat colonies and large parrots. Close to civilization,
yet so far away...


---
Photos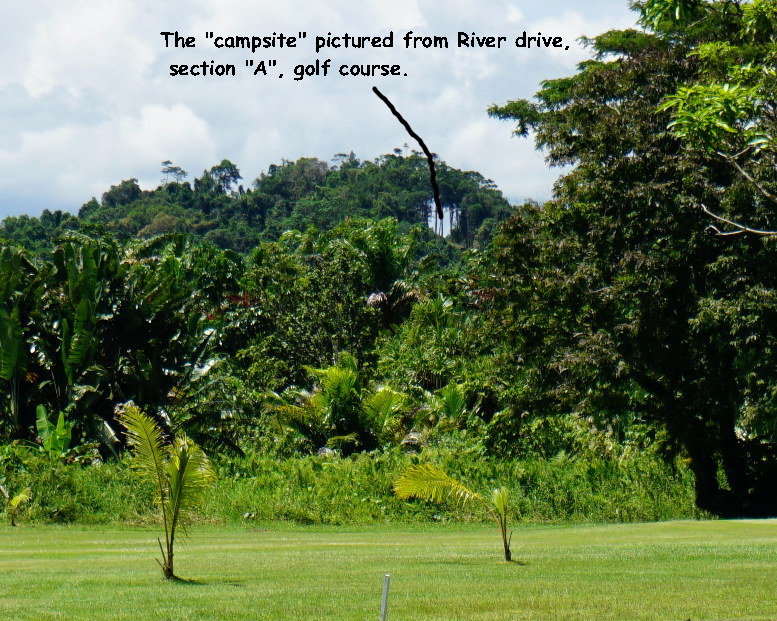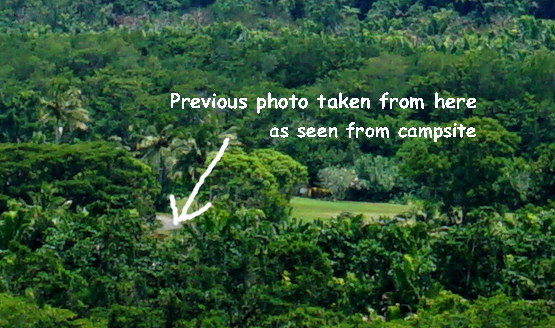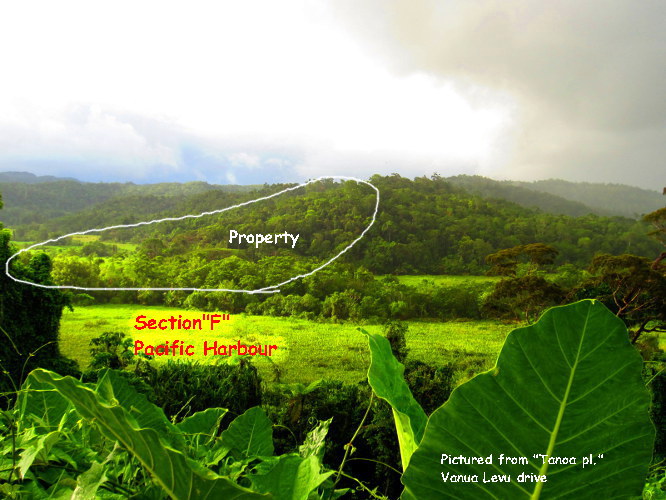 ---
Photos
of "campsite" area on mountain top.


View south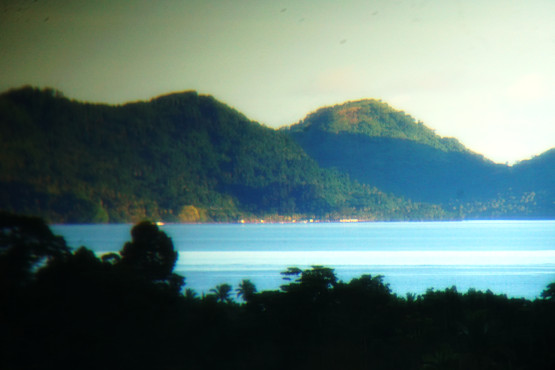 View of Mbengga through binoculars.



View southeast, Navua reefs. Pac Harbor, section "D". Zoom.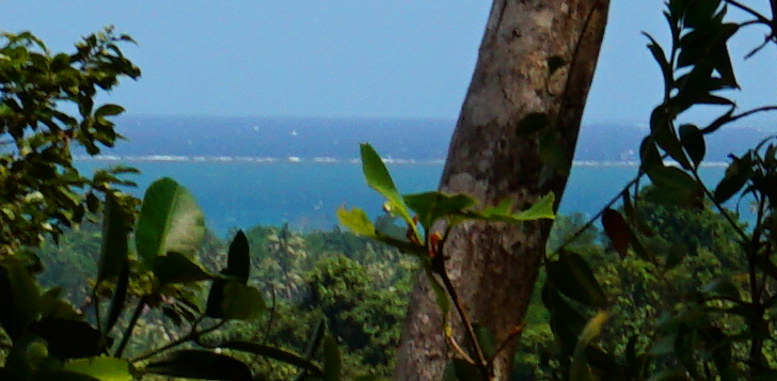 Southeast. Zoom.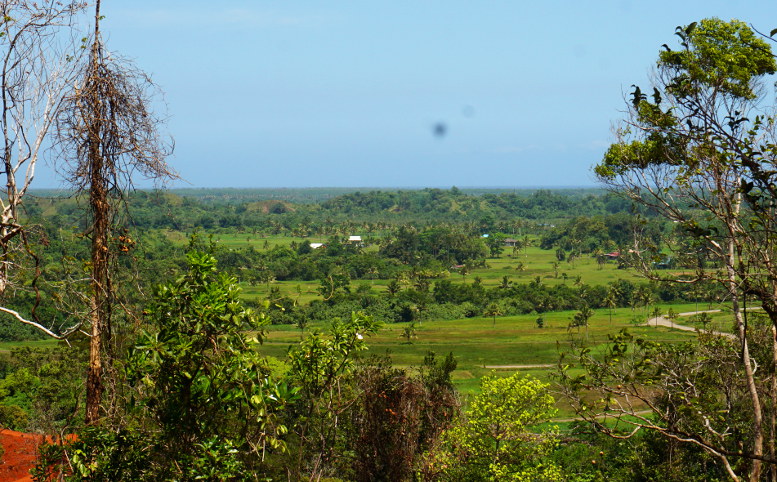 East, toward Navua, Great Harbor drive visible on right.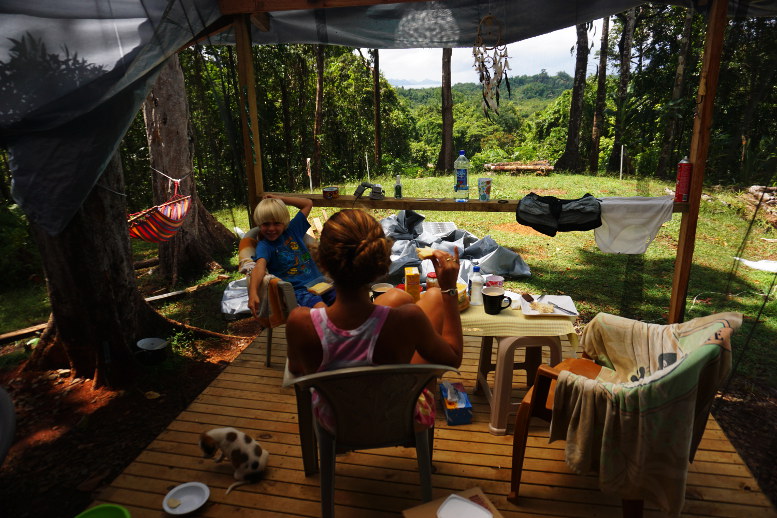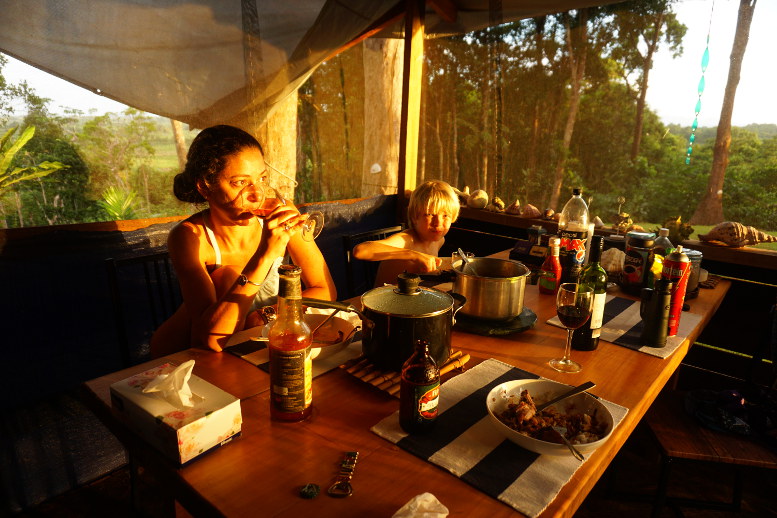 The "parrots' nest" on "Parrot Peak".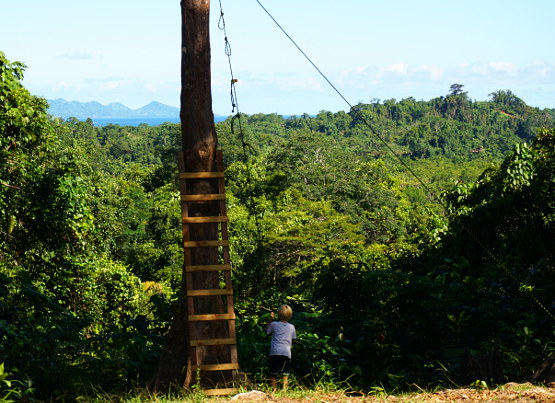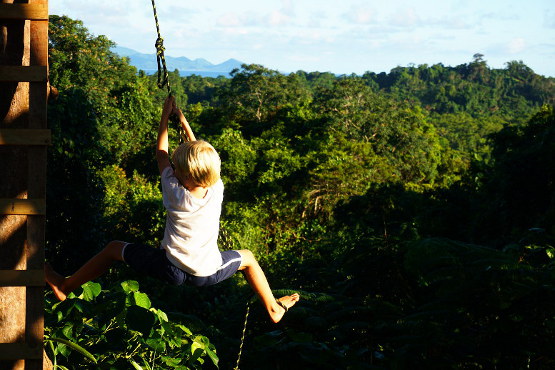 South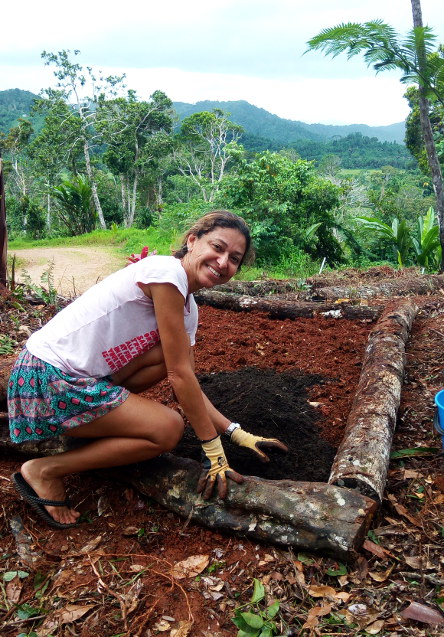 Namosi highlands to the Northeast.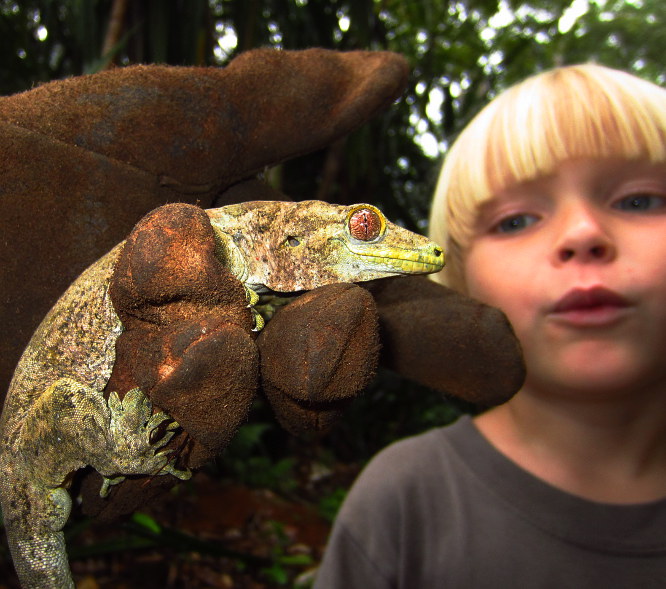 The largest gecko in the world! The Voracious gecko. Native.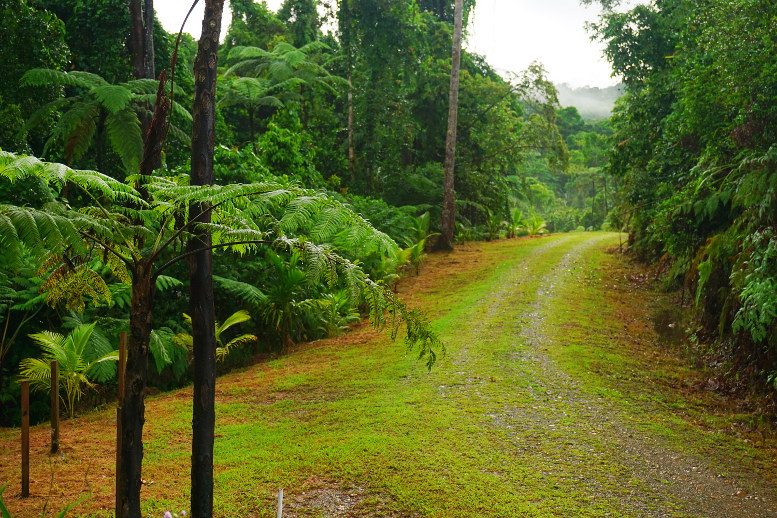 The "public" access road.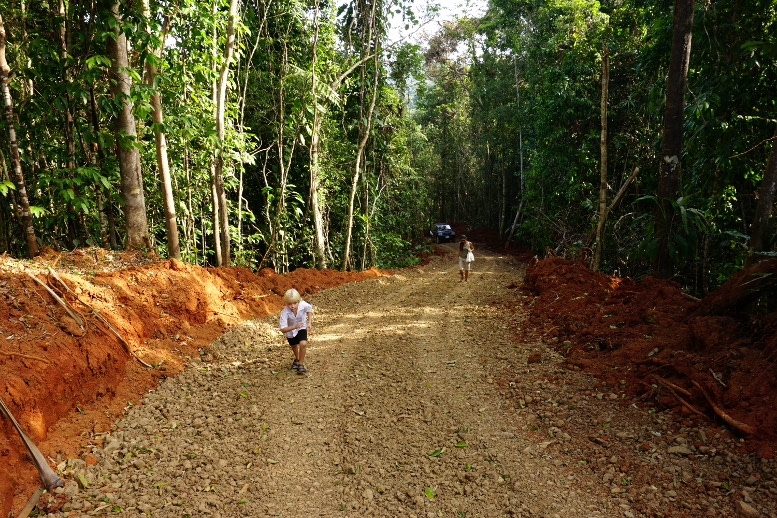 The private road going down the mountain, within the property.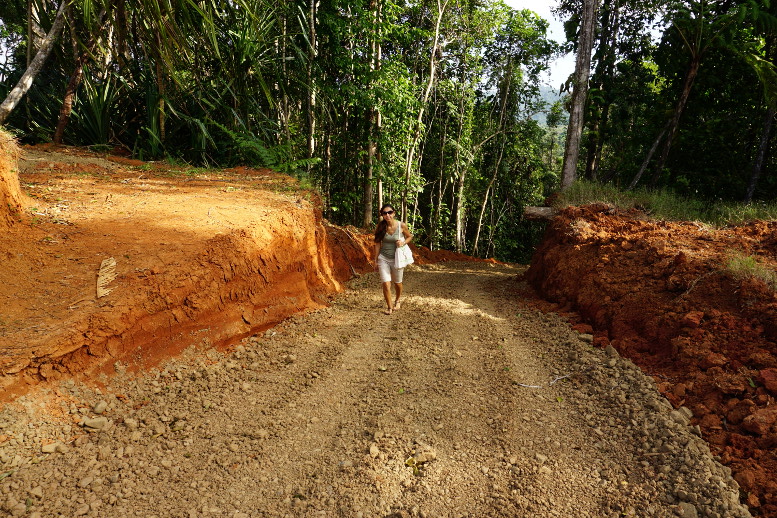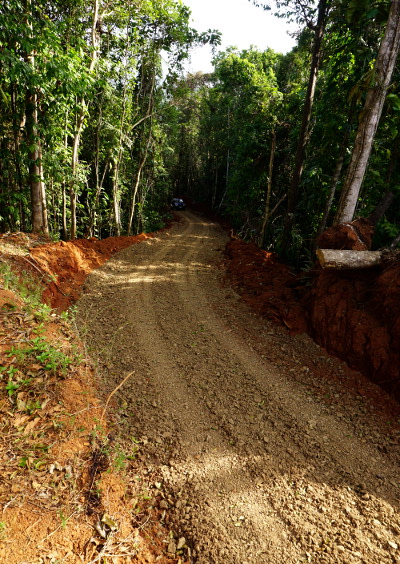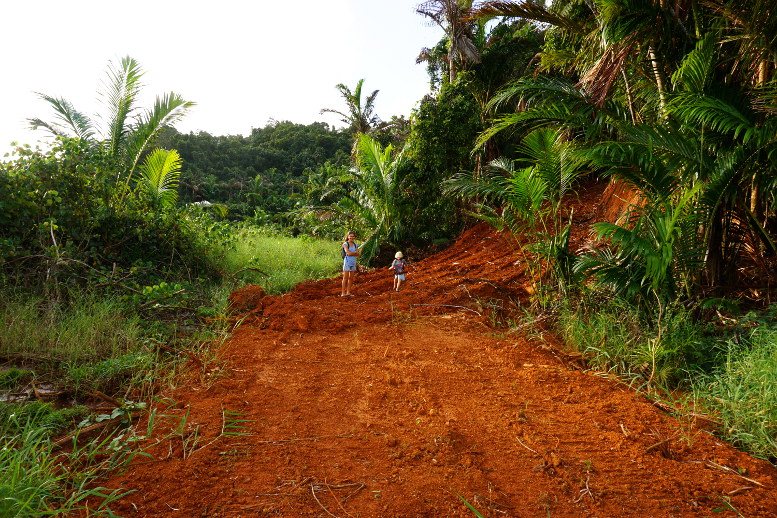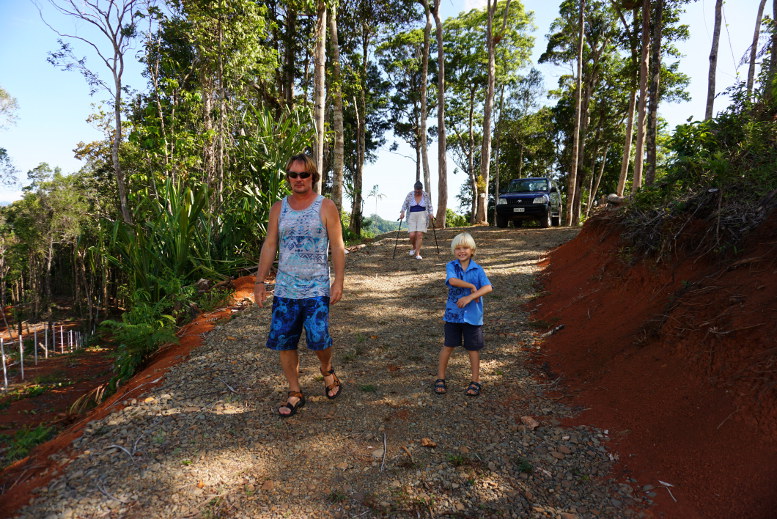 The "camp" area, private driveway.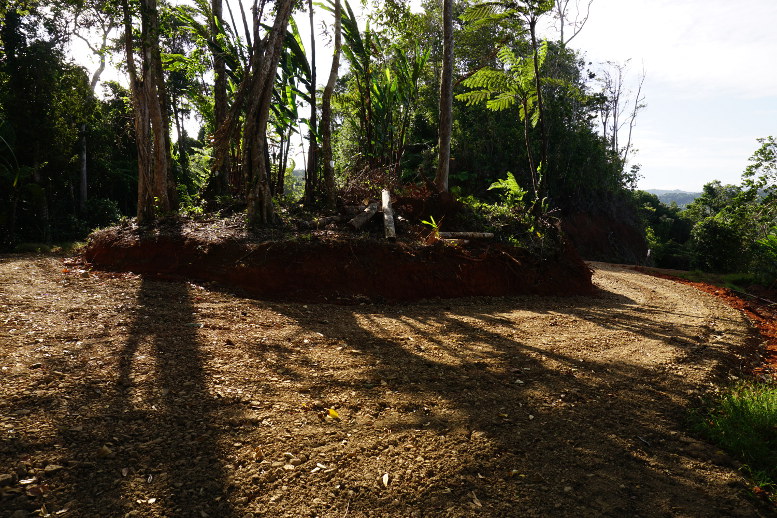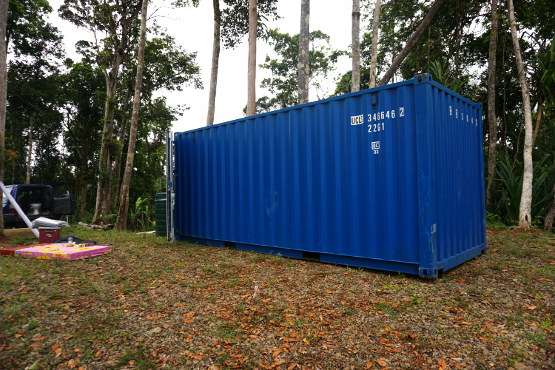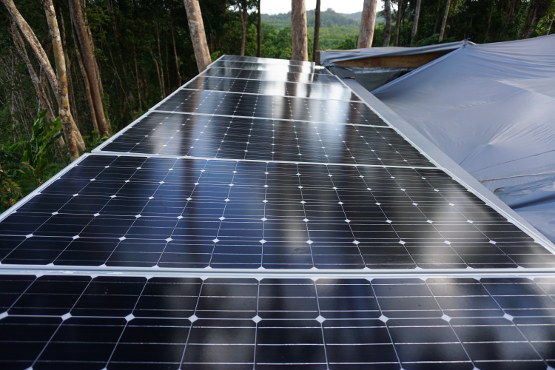 Shortly, solar systems will not be necessary as
public electricity will be installed by the government along the road.


---
Photos
of "lower 40", by the river.


Looking east from "Breezy hill".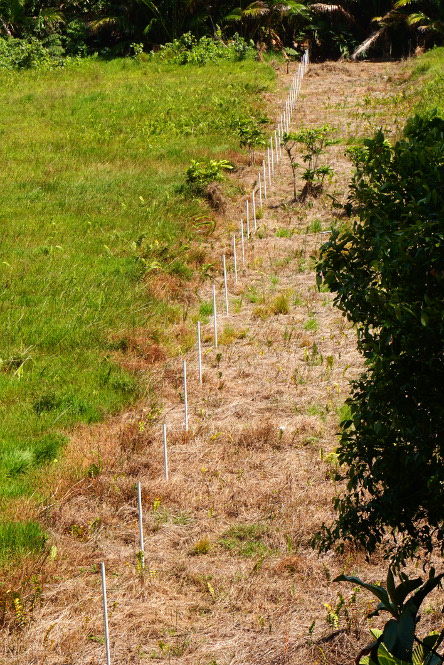 The east fence line.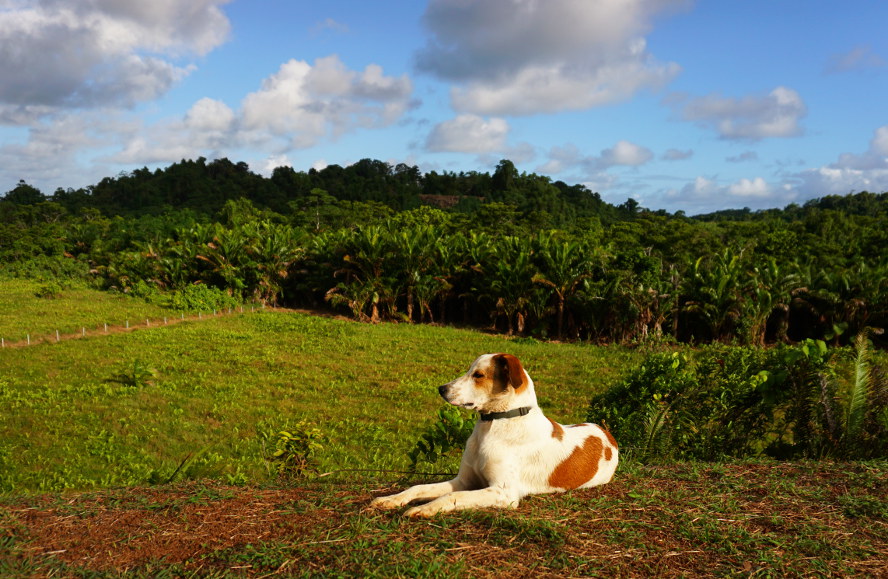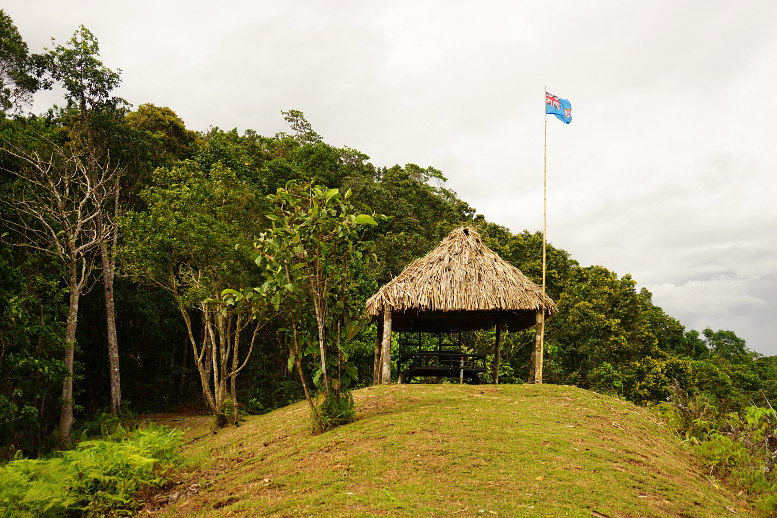 On breezy hill, there stood a mbure back in 2015...now deceased :-(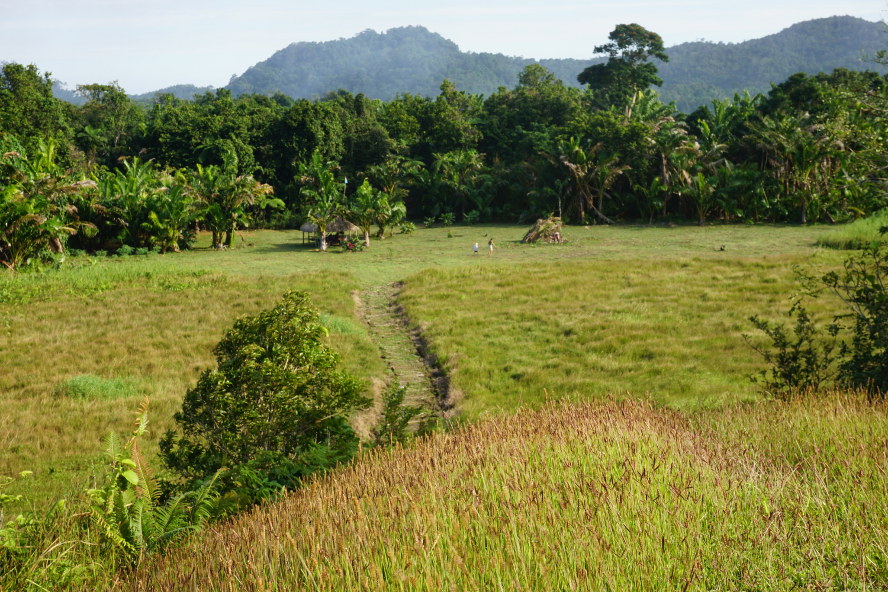 Looking south from "Breezy hill" to the river.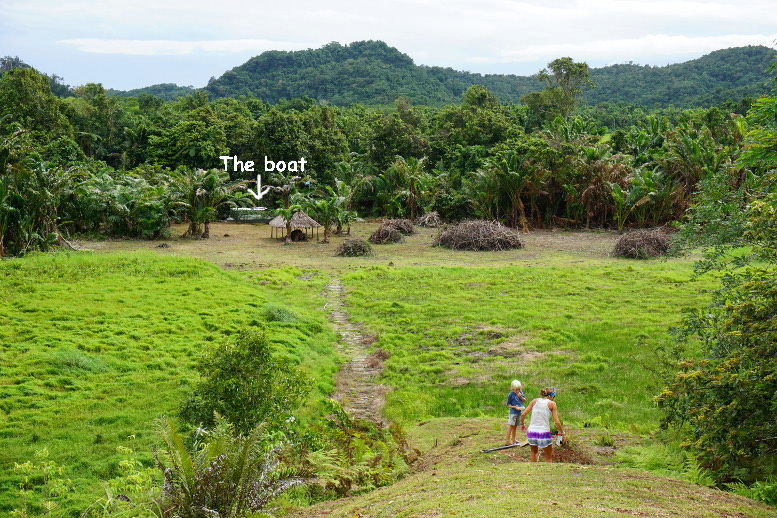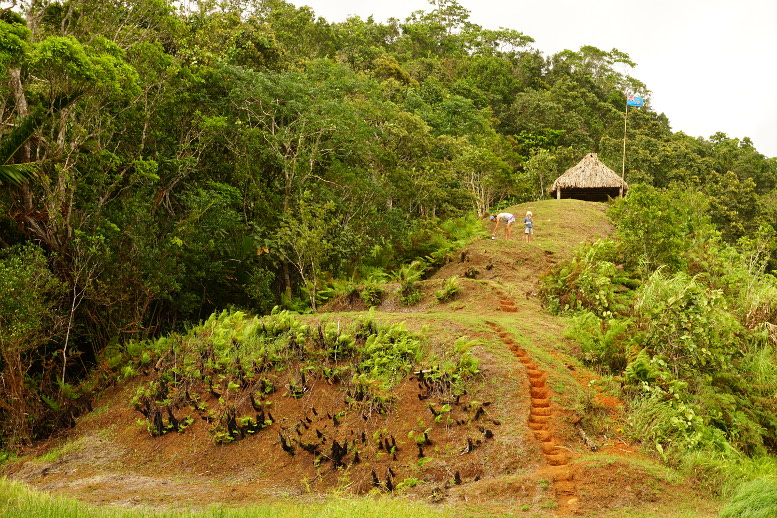 "Breezy hill"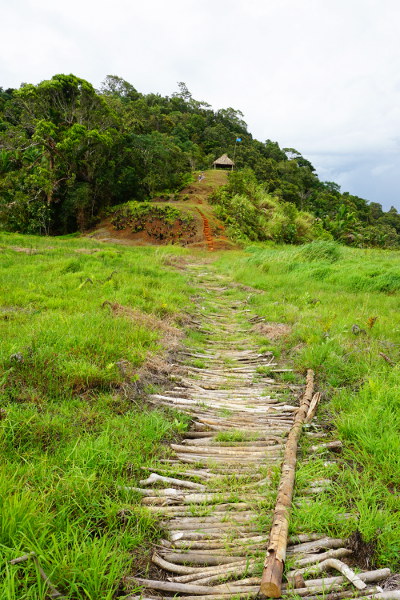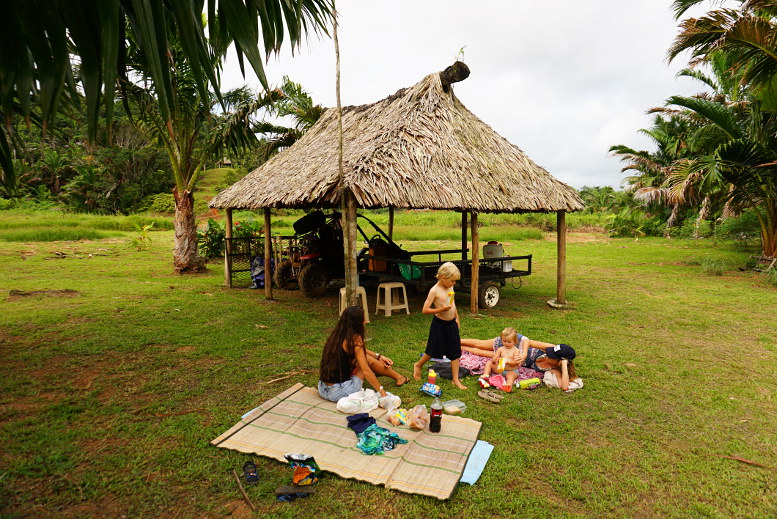 Down by the river, there also stood a mbure in 2016...now deceased :-(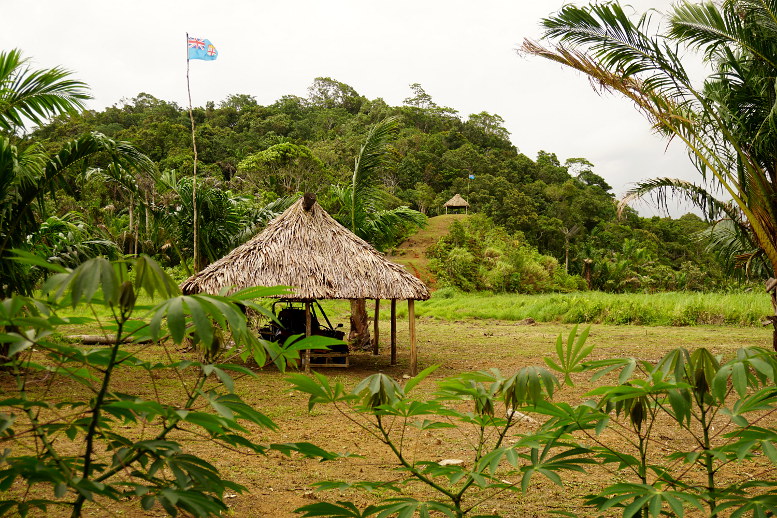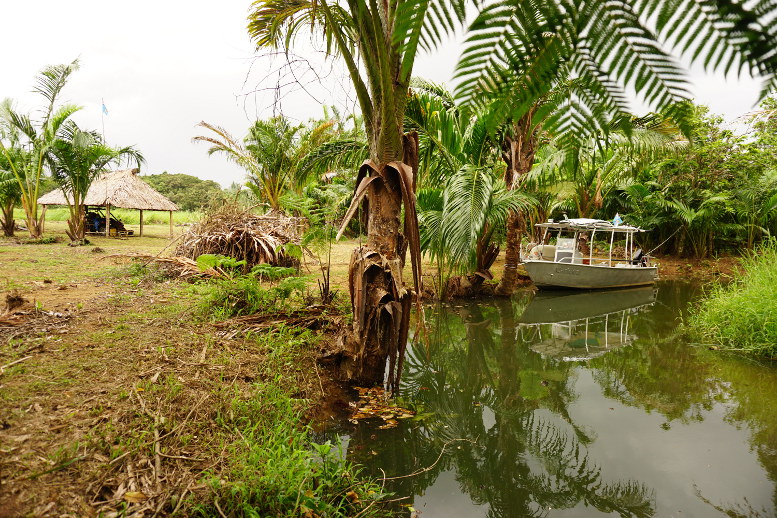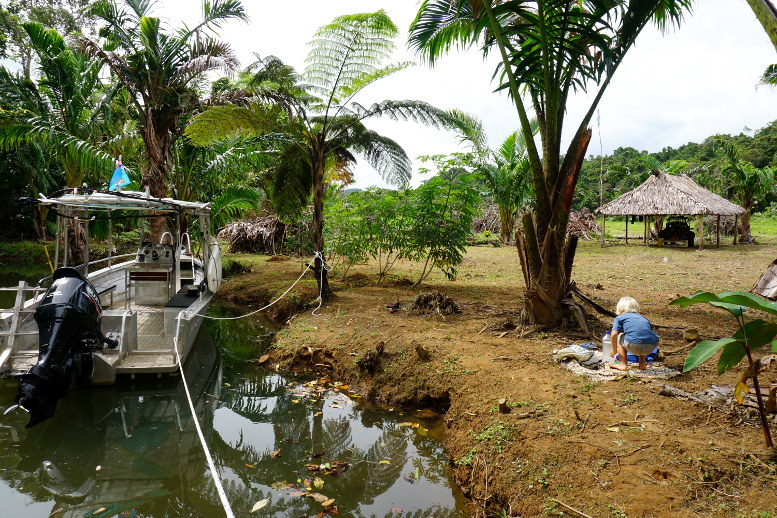 The "marina" area, as it was in the days of yore (2016).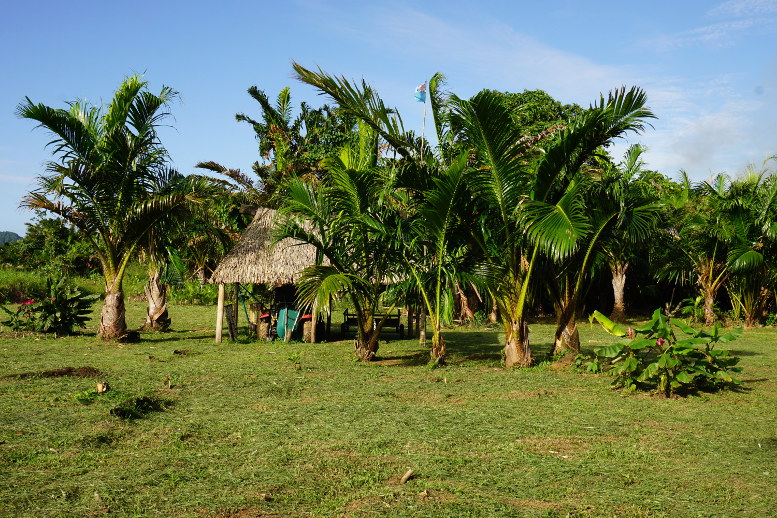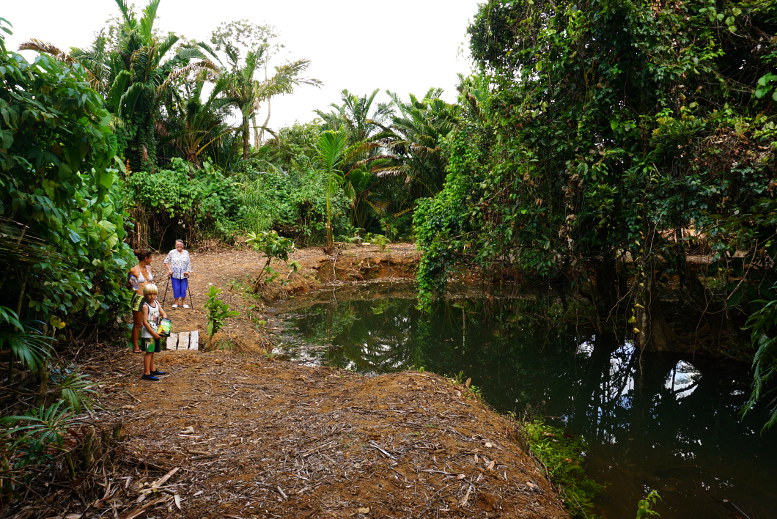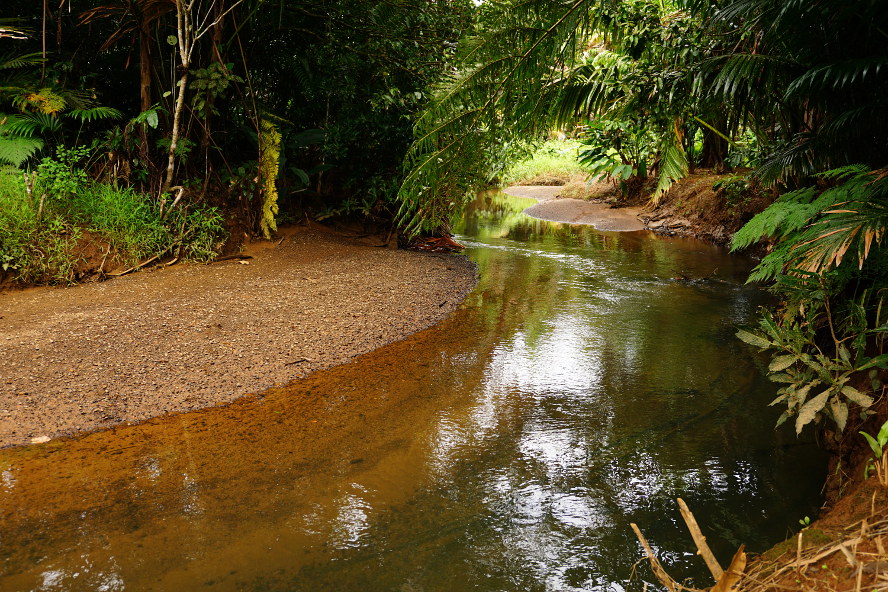 "Copacabana" beach. Low tide. Serene swimming at high tide.
Here, at the limit of the tidal reach, at the convergence of the Mangrove and Sago ecosystems,
the bottom of the creek is sometimes 100% saltwater and the surface 100% fresh! During heavy rains,
when the creek flow becomes heavy, all the water is 100% fresh, and during droughts, at high tide,
mostly salty.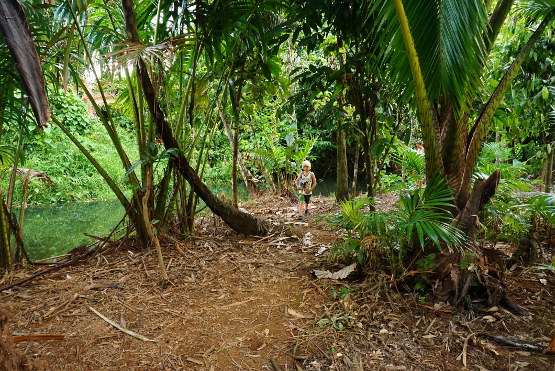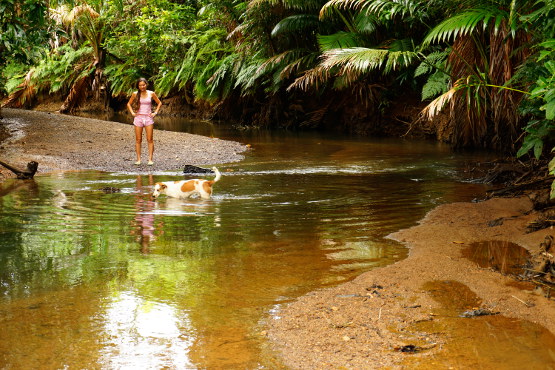 The property has approximately 800m of creek frontage.



Coming up the Nggaraninggio river to the property.


---
Some greenery...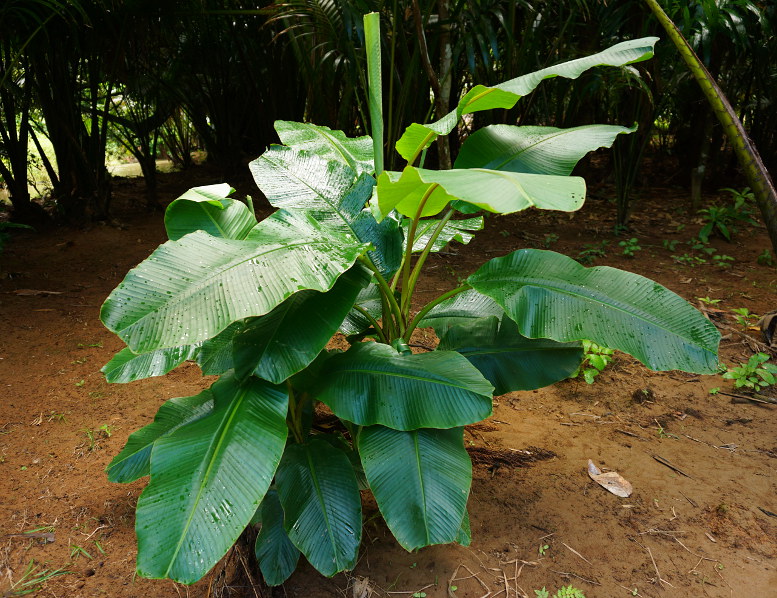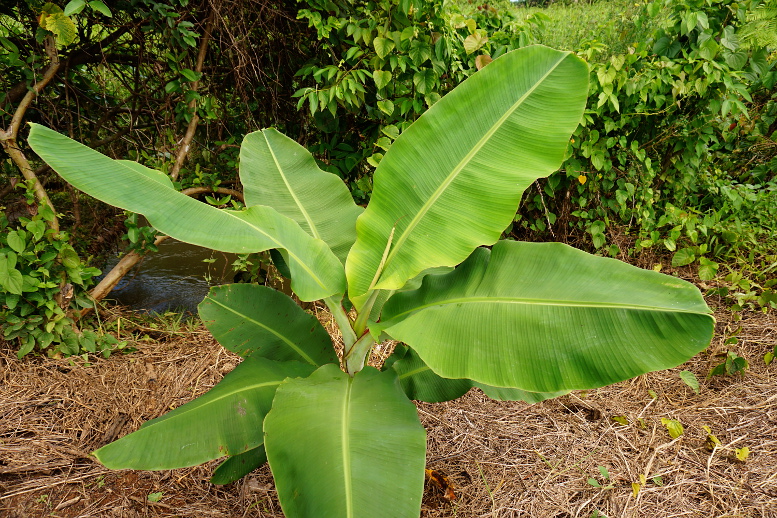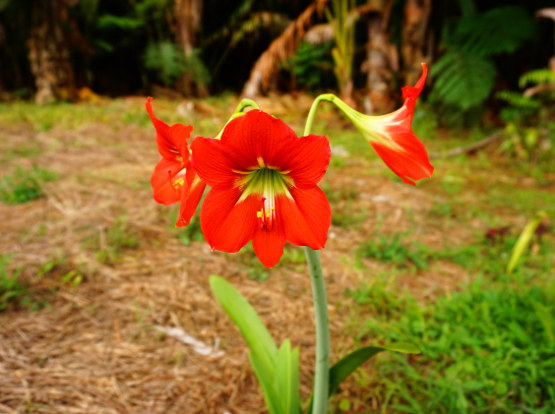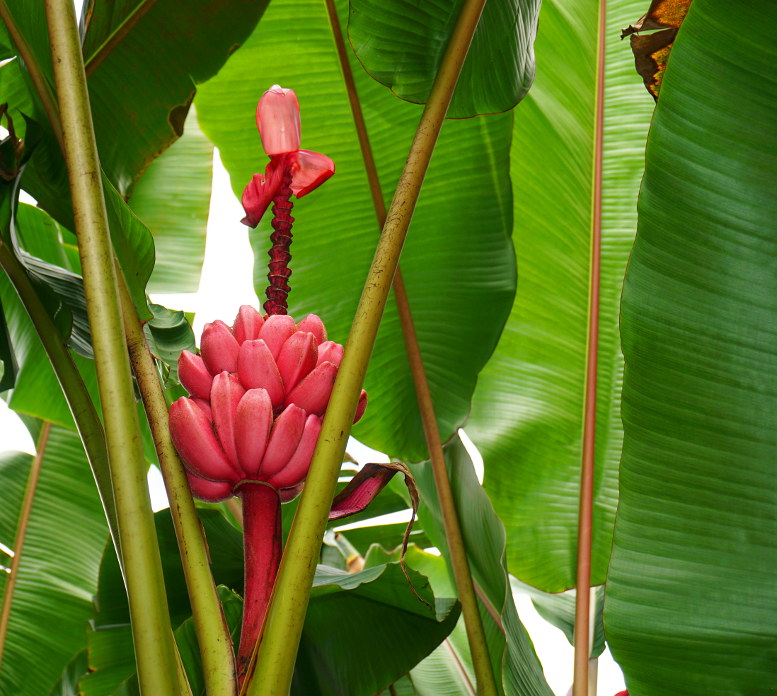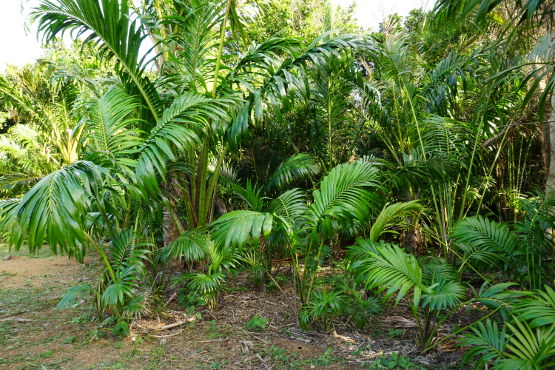 Endemic Sago Palms.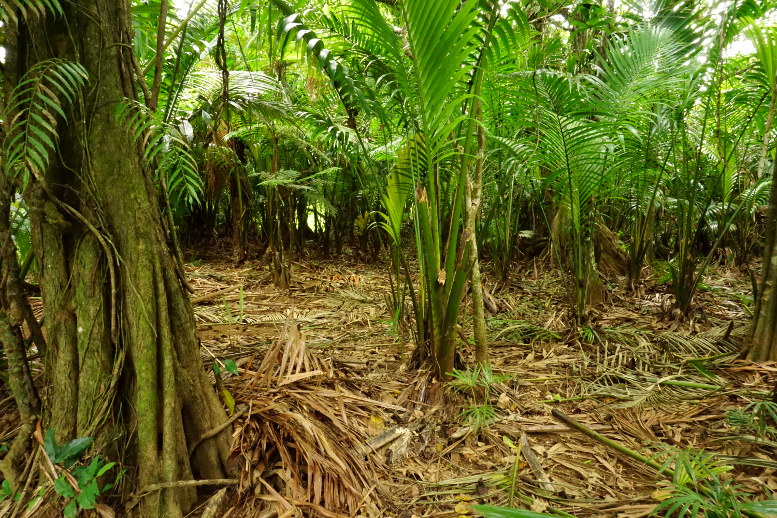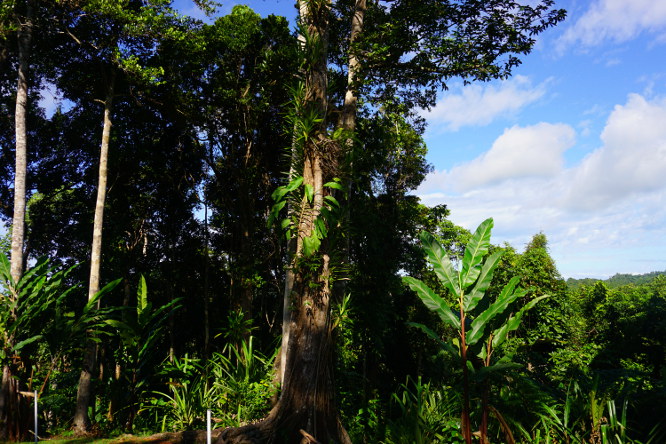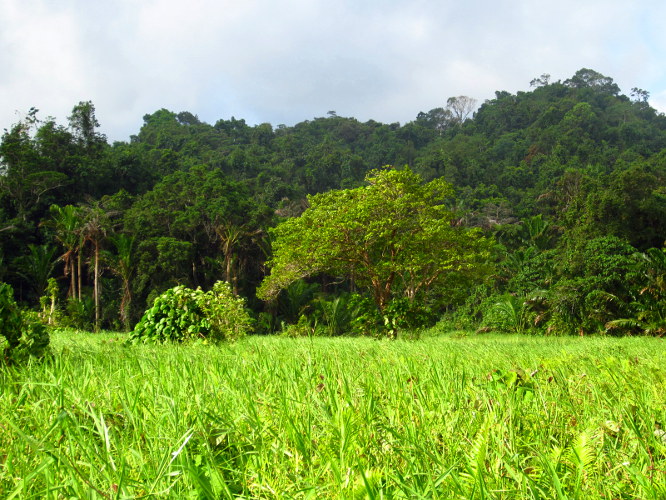 Everything in this photo is within the property.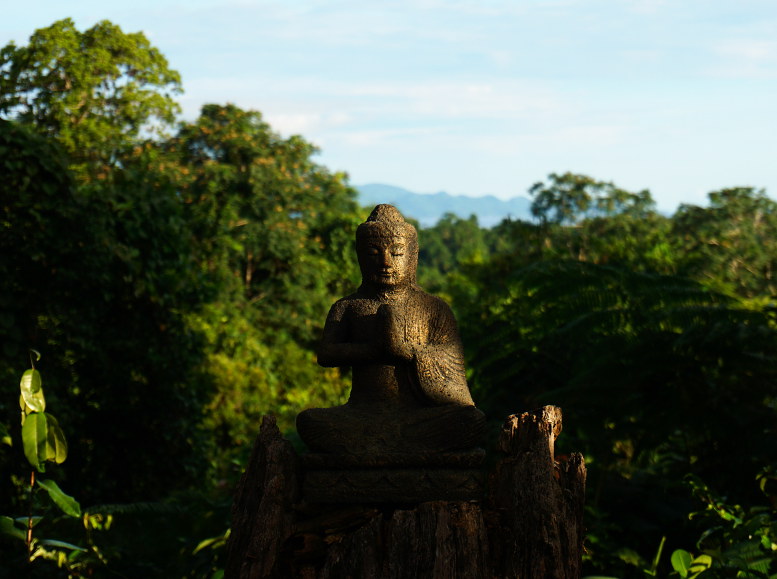 As is everything in this one, except Mbengga Island, in the background ;-)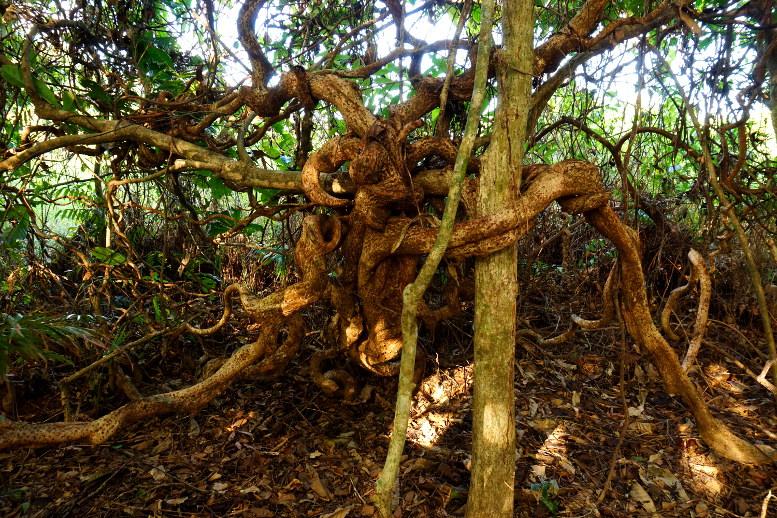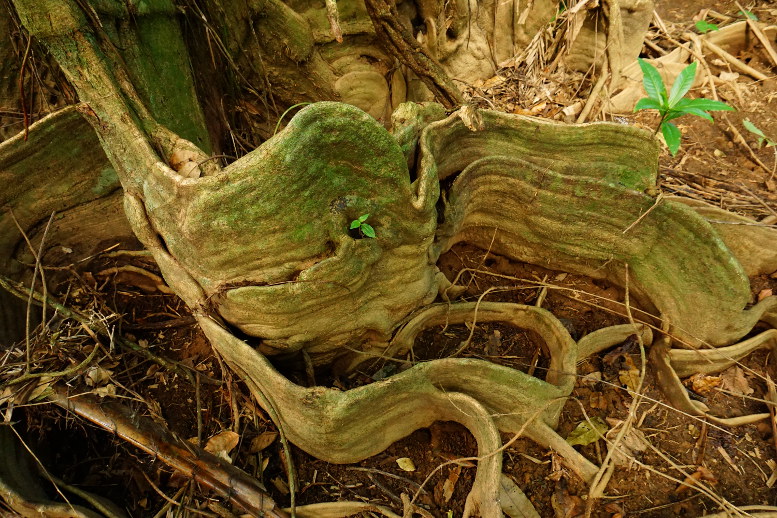 Root magic.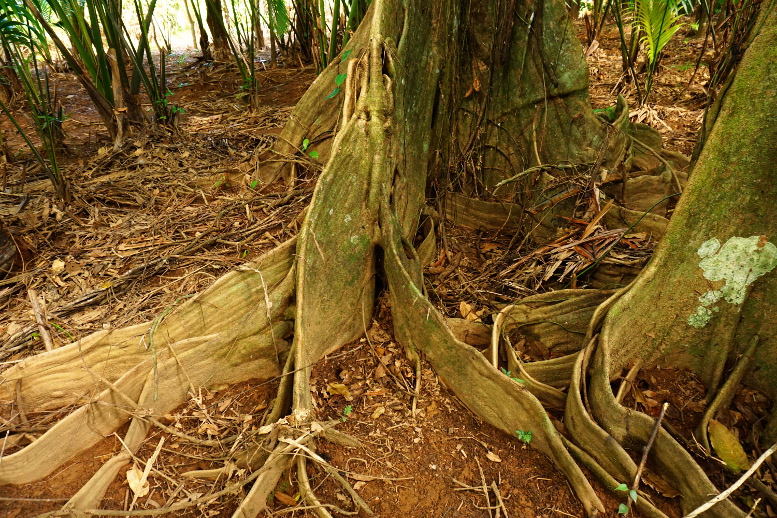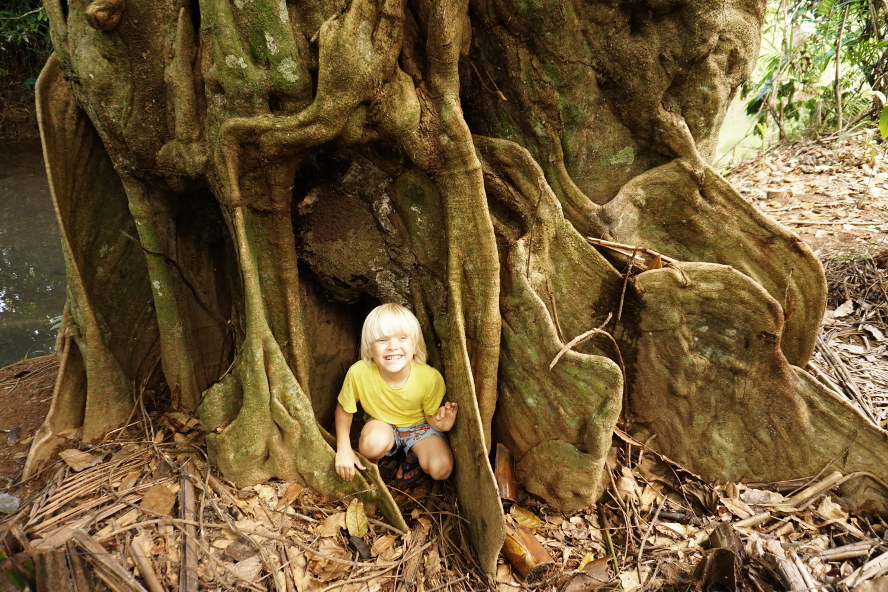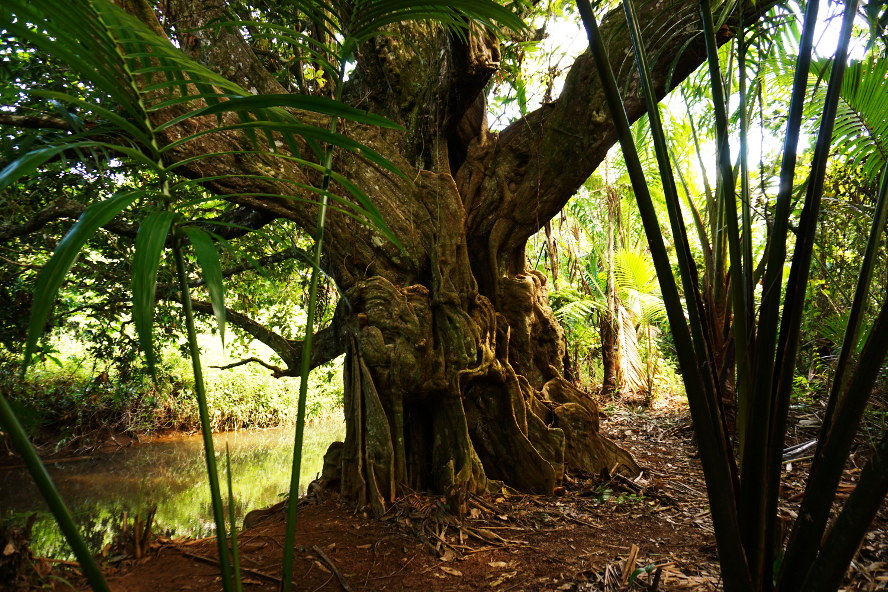 A Gigantic Tahitian Chestnut tree. Fijians call it 'Ivi'. Has an edible nut.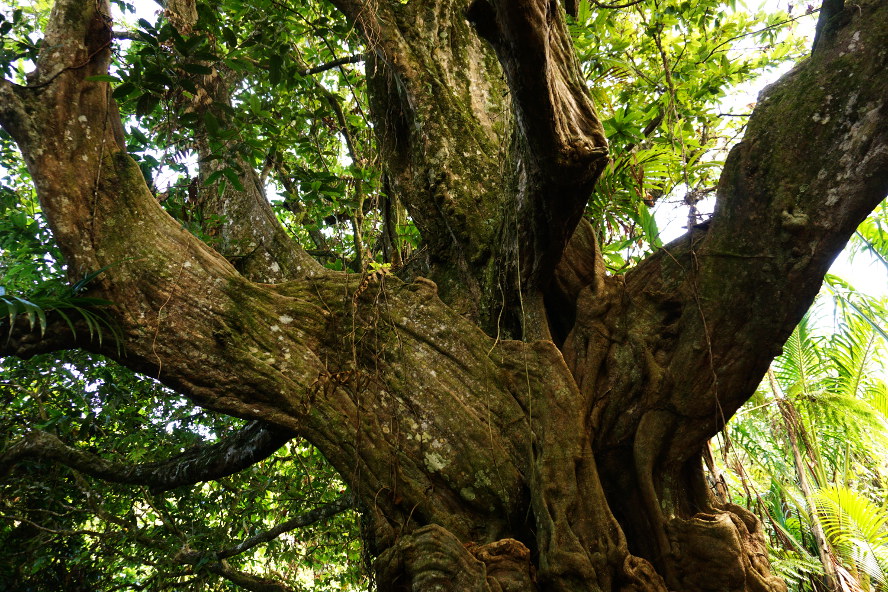 Perfect for a large tree house.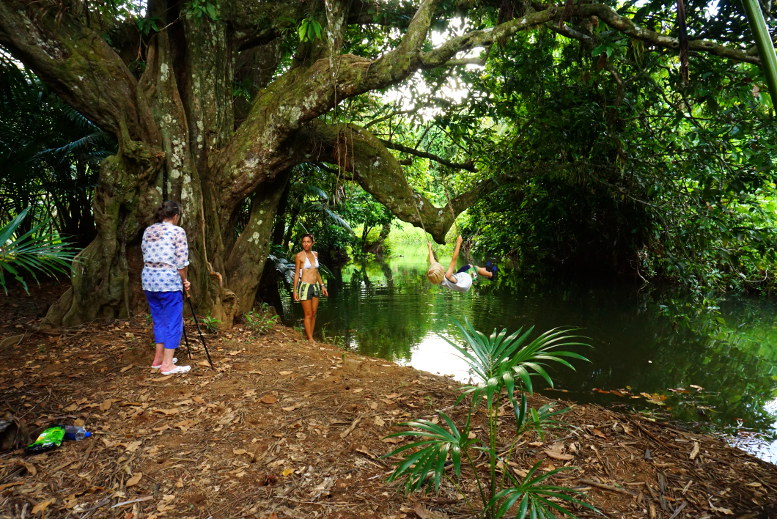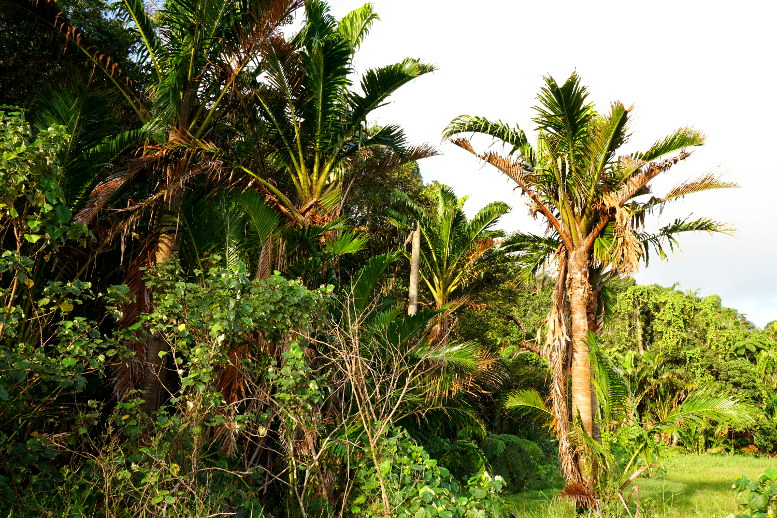 Large Sago palms.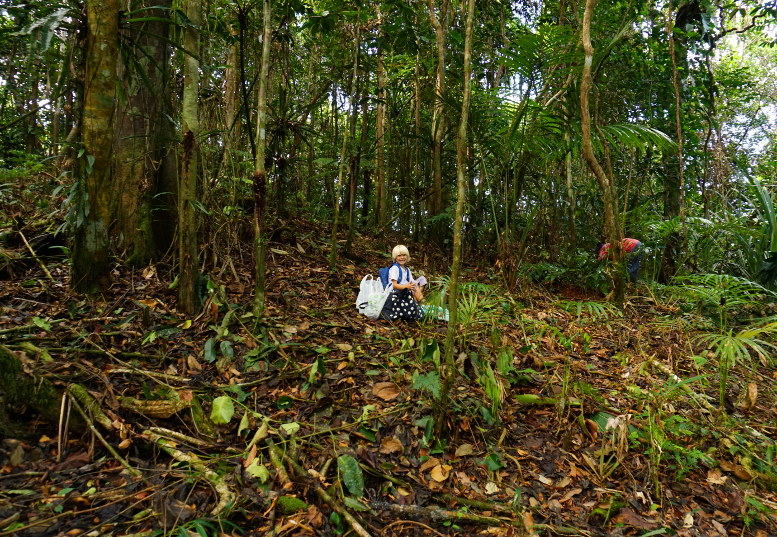 The "Makita" forest.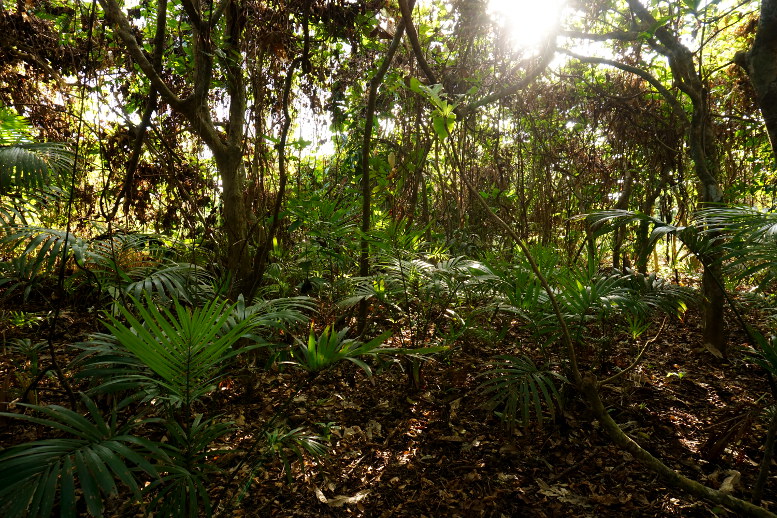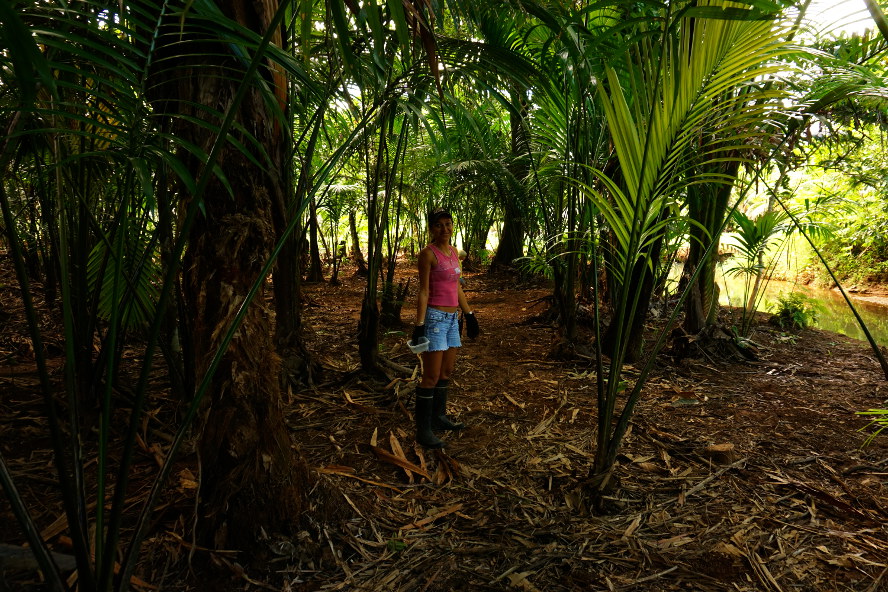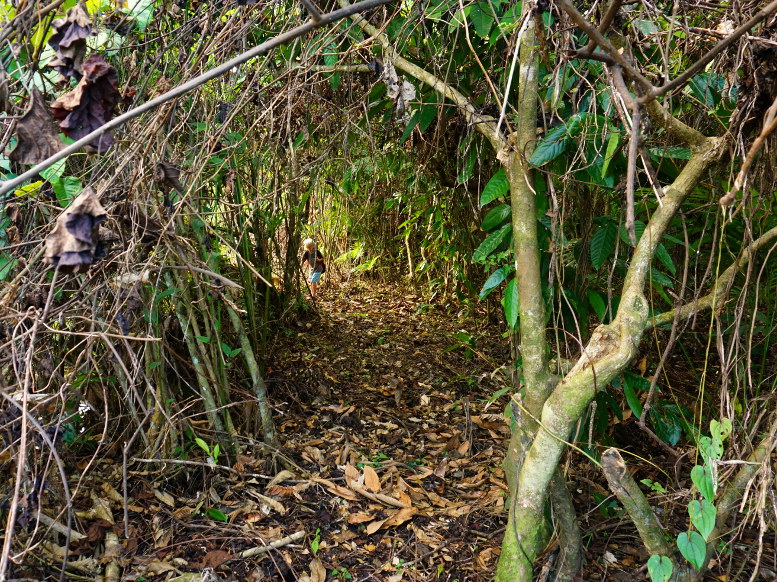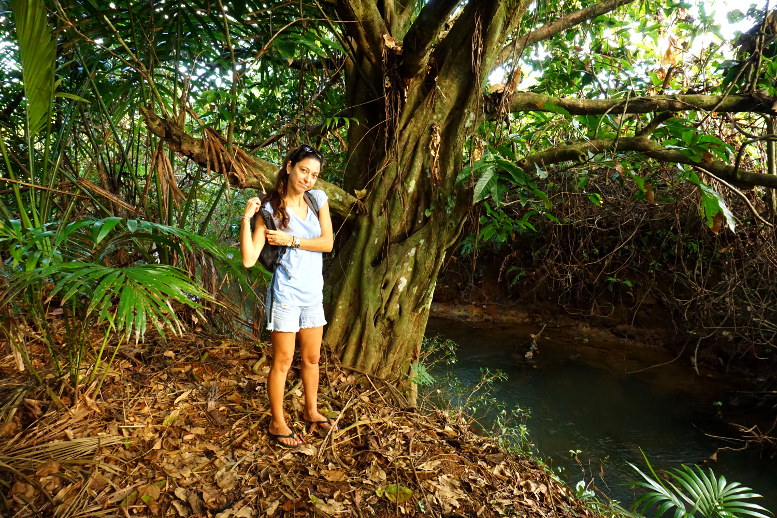 ---
---
Bonus !
Local waterfalls 5km (20min) up the road.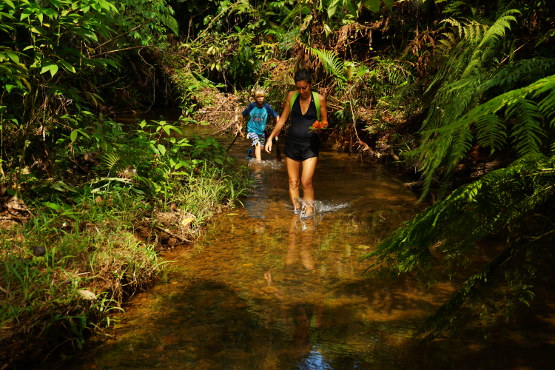 Hiking along creek...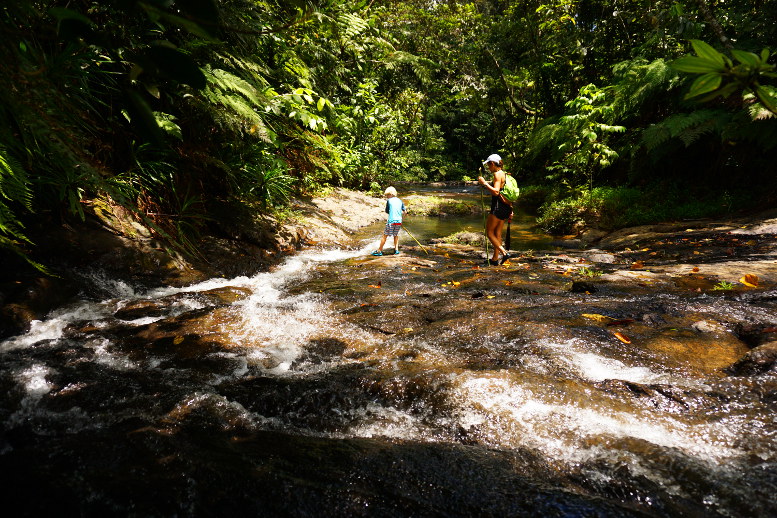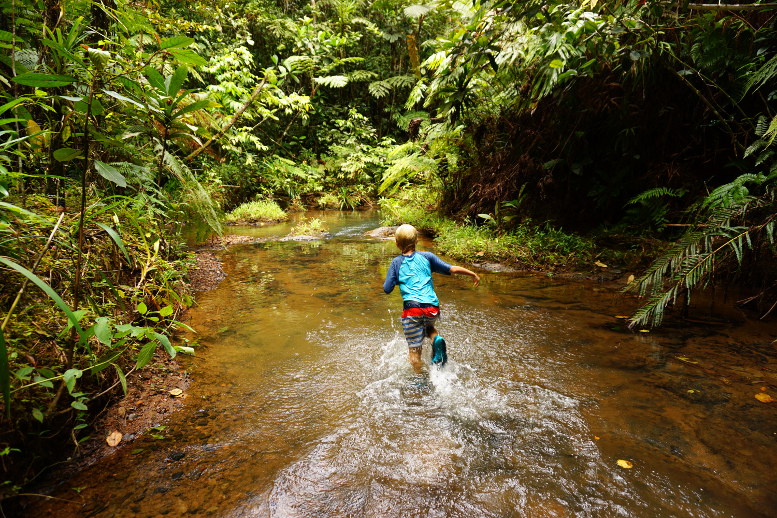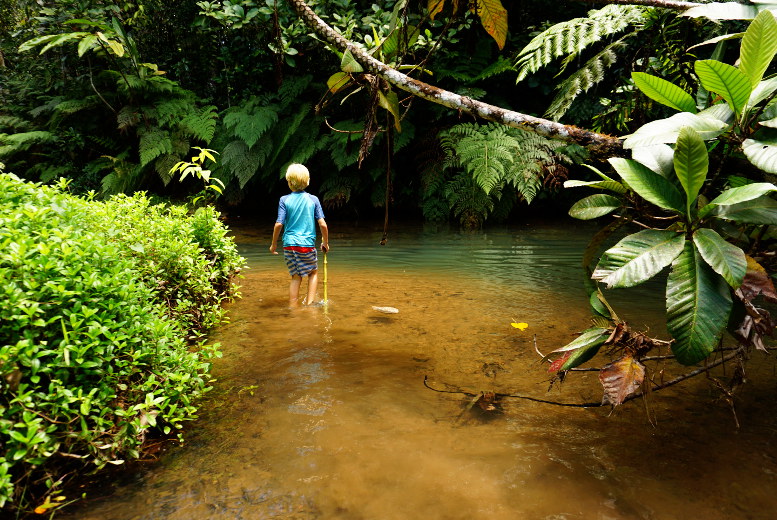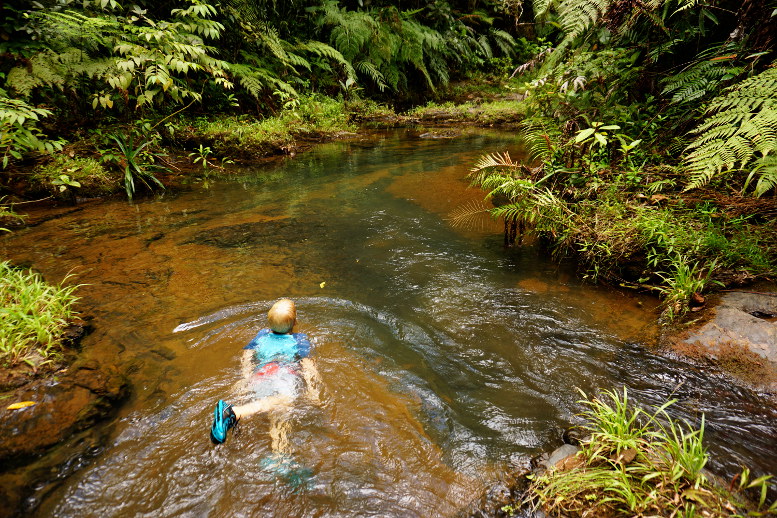 To spectacular waterfalls!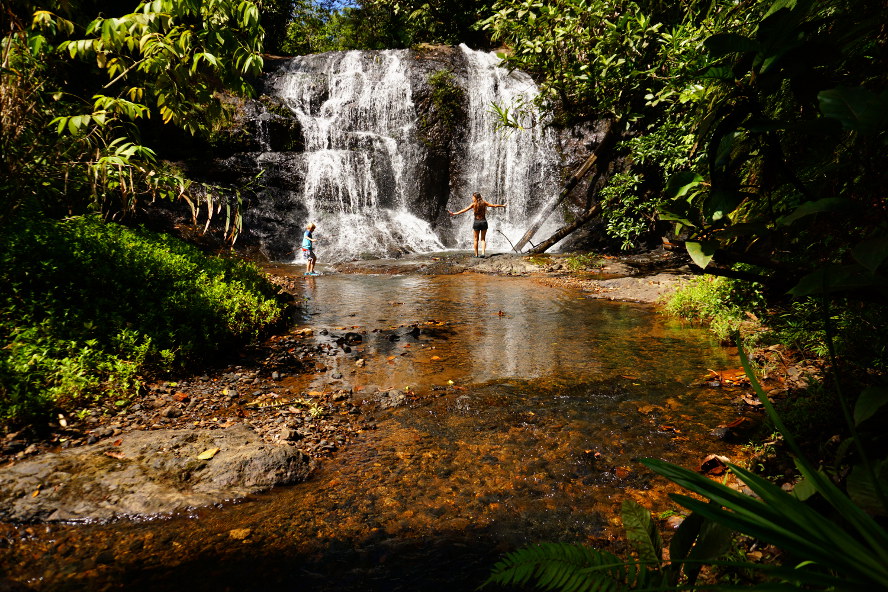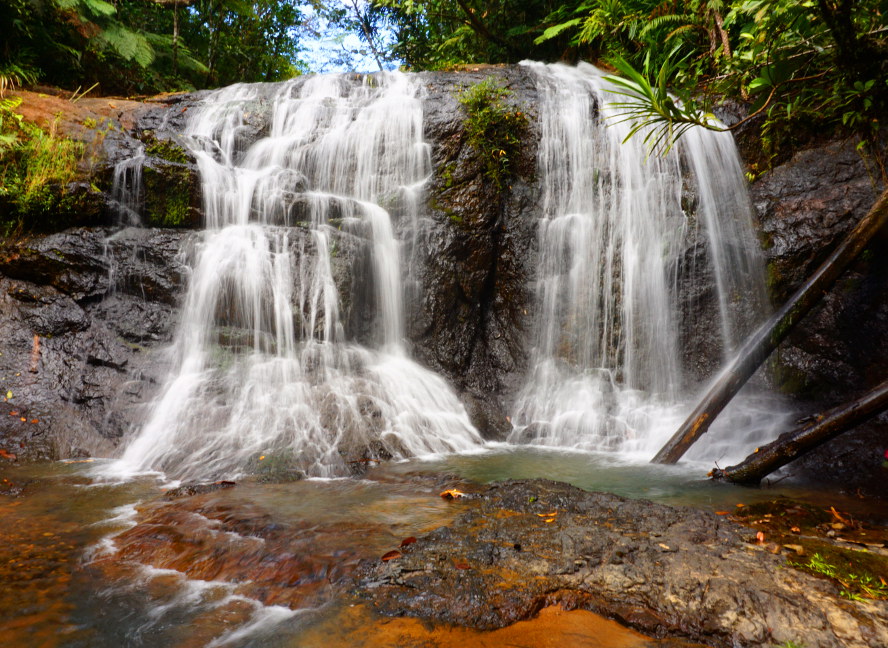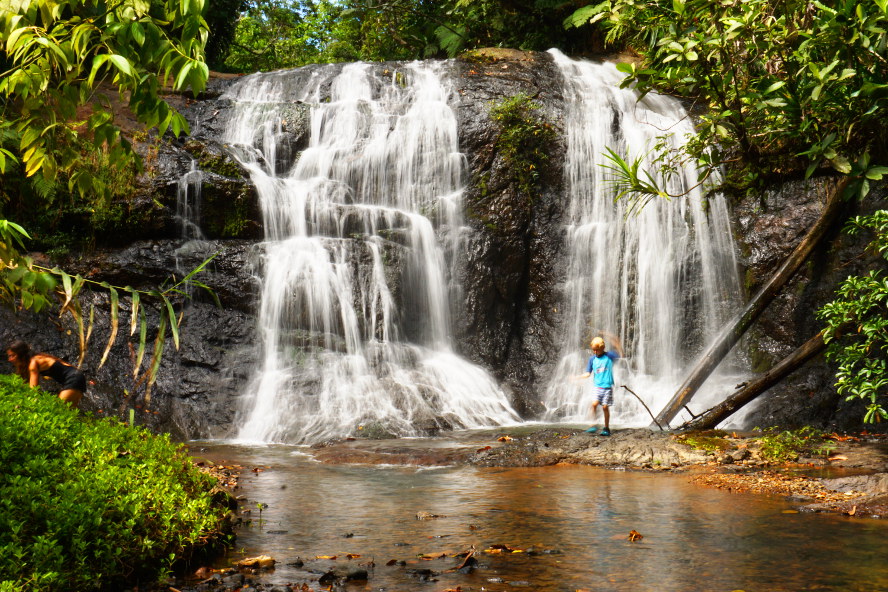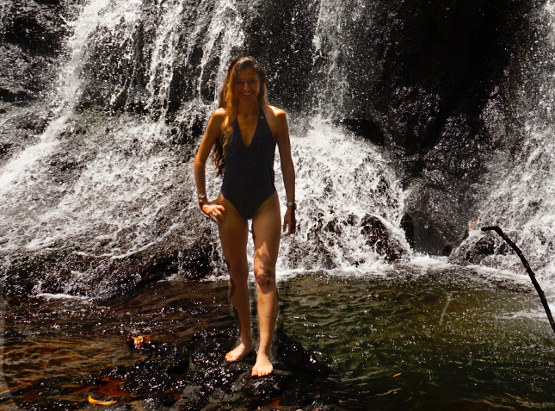 Ni sa mbula !
Welcome to paradise !